You are here
Galway University Hospitals reaches milestone as the 500th patient undergoes minimally invasive prostate cancer radiation treatment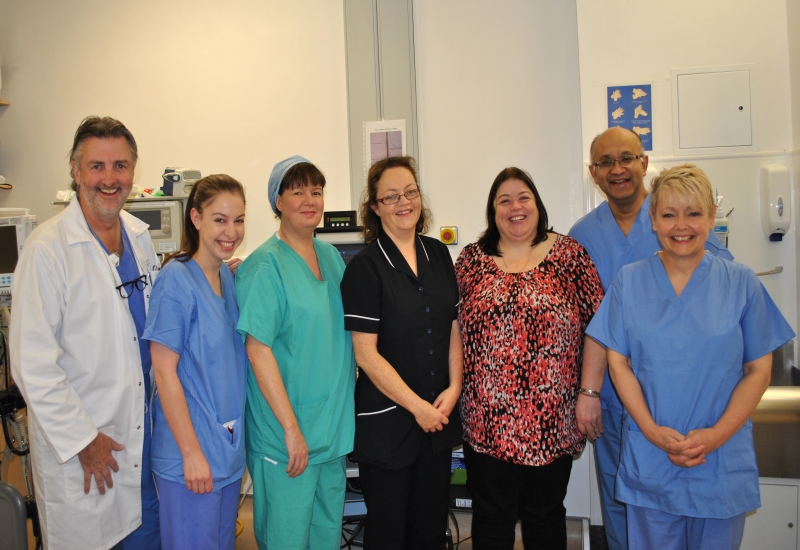 Today, Friday 01 November, the 500th patient to undergo prostate brachytherapy for the treatment of prostate cancer was seen at Galway University Hospitals (GUH). Brachytherapy is a once off treatment option that involves the implantation of radiation seeds directly into the prostate as an alternative to conventional external beam radiotherapy and surgery.
 
The treatment has been available to patients in the west for the past six years as a result of the innovation of Prof Frank Sullivan, Consultant Radiation Oncologist who has been successfully treating patients in GUH since 2007.
 
Ireland has the highest incidence of prostate cancer in Europe with over 3,000 men diagnosed annually. This number is expected to increase over the coming decades as the population ages. Considerable advances have been made in both the surgical and radiotherapy options in recent years. Brachytherapy has gained international acceptance as a standard of care in the management of the disease.
 
Prostate (seed implant) brachytherapy is a technique to treat early stage, prostate cancer by strategically placing radioactive seeds inside the prostate gland (using specialised ultrasound guidance equipment) where they remain to irradiate the malignant tissue within the prostate. For men who have been diagnosed with low risk prostate cancer, the option of brachytherapy means just one visit to hospital which is more convenient for patients who may otherwise require seven to eight weeks of daily external radiotherapy sessions or surgery. Some patients, with higher risk features, may need other additional treatments such as a short course of radiation and/or hormone therapy.
 
"GUH does not admit patients to a hospital bed for this day 'surgery'. The patient comes in to GUH in the morning and goes home the same day", says Prof Sullivan. "This represents a significant cost saving to the hospital over other available techniques."
 
Prof Sullivan continues, "Patients who are suitable for Prostate Brachytherapy benefit from high dose highly targeted radiation, shorter treatment times and studies are showing disease control rates equivalent to the other curative options, as well as improved quality of life for patients.
 
"In GUH we provide the full range of cancer treatments for patients with prostate cancer. Our Rapid Access Prostate Clinic has been hugely successful since its opening in 2009 and in 2010 the Prostate Cancer Institute at NUI Galway was established to develop new therapies and better treatments. We are well placed to deliver the latest treatment in a region that has the highest incidence of the disease nationally.
 
"I am delighted to reach the milestone of treating our 500th patient. We are providing access to this treatment option, on par with any cancer centre in the world and it is a huge credit to the hard work and determination of all staff to ensure that our patients have access to a full range of treatments."
 
This is the second milestone reached by the Prostate Cancer Services at GUH this year; in January the National Prostate Brachytherapy Service was launched at GUH, led by Prof Frank Sullivan, which involved introducing Brachytherapy as a treatment option following the training of specialists in St Luke's Hospital Rathgar, Dublin and Cork University Hospital as part of the National Cancer Control Programme.
 
Photo details:
Galway University Hospitals reached a milestone today as the 500th patient underwent minimally invasive prostate cancer radiation treatment (prostate brachytherapy). Members of the prostate brachytherapy team, from left: Prof Frank Sullivan, Consultant Radiation Oncologist and Lead Clinician, Department of Radiation Oncology; Martina Sweeney, Staff Nurse; Jackie Barrett, Anaesthetic Nurse; Ger O'Boyle, Clinical Nurse Manager 2; Marie Cox, Group Asst Director of Nursing; Mr Jam Khalid, Consultant Radiation Oncologist; and Mary Hodkinson, Staff Nurse.