You are here
Galway University Hospitals leading the way in Interventional Radiology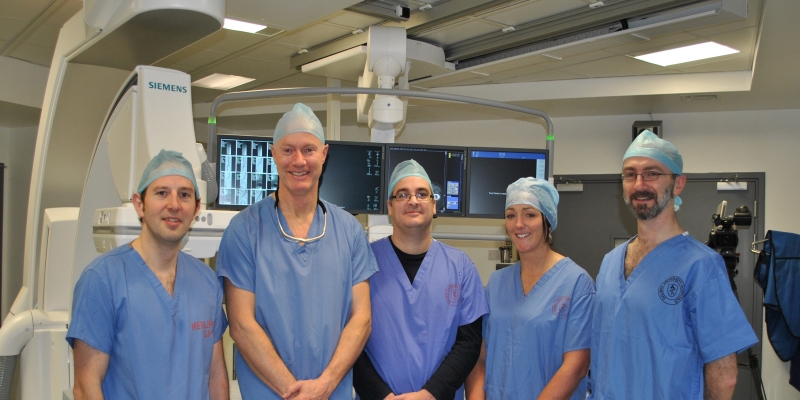 Galway University Hospitals (GUH) is a leader in Interventional Radiology with a world class service providing venous endovascular reconstruction to patients from all over Ireland and overseas.
 
Venous endovascular reconstruction involves using a minimally invasive, targeted treatment to get through blockages in veins and to insert stents to connect areas of normal veins back together.
 
Dr Gerry O'Sullivan and Dr Ian Davidson, Consultant Interventional Radiologists at GUH, along with Dr Anthony Ryan, Consultant Interventional Radiologist at Waterford Regional Teaching Hospital performed venous endovascular reconstruction on five patients which were broadcast live to a conference in Leipzig, Germany which brings together over 3,500 experts in Vascular Diseases from 70 countries, on January 28 and 29.
 
According to Dr O'Sullivan, being chosen to showcase the expertise available in GUH is a major recognition of the work being carried out in Galway. He said, "Galway is one of the key centres in Europe for acute deep venous thrombosis work, and we are delighted to have an opportunity to share our experience. Every year a significant number of patients are referred to Galway for specialist assessment, advice and treatment. In addition dozens of physicians from all over Europe travel to Galway every year to train with us in these techniques.
 
"By broadcasting the procedures at GUH live to the conference, we are able to share our experience with a much larger group of doctors. Due to management support and foresight we are fortunate to have two advanced Siemens angiography suites - we also have the benefit of a highly trained group of nurses, radiographers and anaesthetists whose expertise is critical.
 
"We have had considerable success with these new, highly advanced, technologically sophisticated procedures, which have the capacity to greatly enhance our patients' quality of life and often save limbs.  Typically patients we treat suffer with swollen, stiff, and heavy legs and they cannot walk for any distance. Many of these patients have had ulcers at one time or another which have failed to heal. After successful treatment patients can walk further, their legs are less swollen and their ulcers usually heal.
 
"Our department is focused on providing the latest treatment techniques to achieve the best possible outcomes for our patients. We have strong research links with both academia and industry and are currently involved in a number of medical trials involving venous disease.
 
"We have a long tradition of working with medical device companies and we will be using venous stents manufactured in the Boston Scientific plant at Parkmore, as well as from the Cook Medical plant in Limerick during the operations which will be broadcast to the conference in Leipzig. It is a privilege to have the opportunity to participate in such an innovative and exciting meeting of world experts who are focused on improving patients' quality of life."
 
Photo Details:
Venous endovascular reconstruction procedures on five patients at Galway University Hospitals were broadcast live to a conference in Leipzig, Germany on January 28 and 29. Photographed after the final procedure at GUH, from left: Dr David Ferguson, Radiology SpR; Dr Gerry O'Sullivan, Consultant Interventional Radiologist; Colm Daly, Radiographer Clinical Specialist; Irene O'Meara, Radiographer; and Dr Anthony Ryan, Consultant Interventional Radiologist at Waterford Regional Teaching Hospital.