You are here
Galway University Hospitals launches mobile app as part of an ongoing policy to improve antibiotic use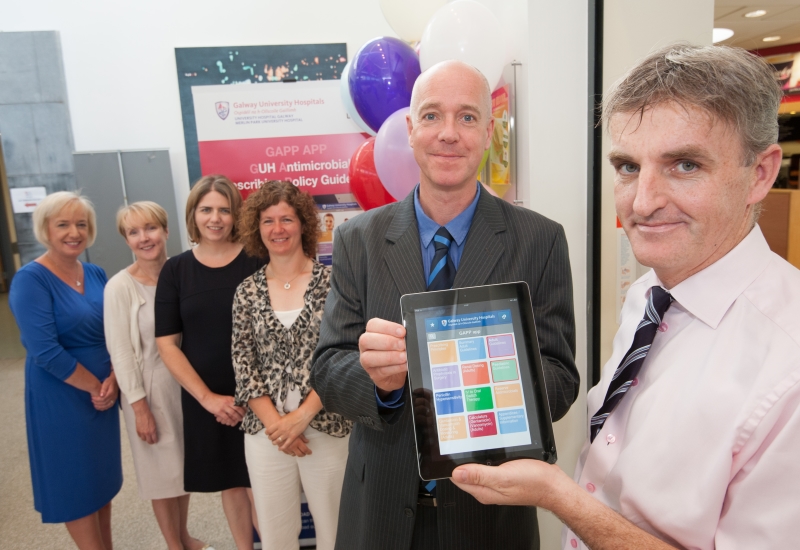 Galway University Hospitals has launched a new mobile app for Antimicrobial Prescribing Guidelines. This is to co-incide with the intake of 197 Non-Consultant Doctors at the hospital in July.
 
Dr Pat Nash, Clinical Director for the Hospital Group launched the mobile app and said, "The antimicrobial stewardship team at the hospital includes microbiologists, infectious diseases physicians and pharmacists. The team monitor antibiotic use and resistance, update the antimicrobial prescribing guidelines and support medical, surgical, nursing and pharmacy colleagues in antimicrobial use. The development of the mobile app is the latest innovation to further improve appropriate antibiotic use and I am delighted that we are able to use mobile technology to give our doctors and nurse prescribers easy access to the guidelines at the point of prescribing."
 
Prof Martin Cormican, Consultant Microbiologist and member of antimicrobial stewardship team said, "Since their development over 60 years ago, antibiotics have helped to treat millions of patients with bacterial infections. Many of the advances in modern medicine such as cancer, chemotherapy and organ transplants would not be possible without them. However antibiotics have often been misused; antibiotics are often used when they are not needed and sometimes when antibiotics are needed the antibiotic used may not be best antibiotic for that situation. We have to take steps to improve the use of antibiotics otherwise we risk squandering one of the most important medical advances of the past 100 years.
 
"Over the past number of years we have made significant inroads in improving antimicrobial prescribing by developing user friendly guidelines that benefit patient care. The mobile app we are launching here today was developed by a team of people to provide a user friendly version of our antimicrobial guidelines which we give to our staff in print format, with one version for adults and one for children. The app means that staff have information on the best antibiotic to use for each infection at their fingertips, it is extremely easy to use and it also means that we can update the information very quickly."
 
The development of the app was kindly supported by an educational grant from healthcare company MSD. Mr Mick Phelan, Business Unit Director, commented, "MSD is committed to providing leading solutions for the benefit of patients so we were delighted to offer our support to this initiative.The app supports delivery of safe and efficient patient care and therefore is aligned with MSD's own health care priorities. I'd like to compliment GUH on the use of innovative technology and their willingness to share the core components of the app with other hospitals to support similar objectives."
 
Photo Details:
At the launch of the Galway University Hospitals mobile app for Antimicrobial Prescribing Guidelines, from left: Connie Merrick, Hospital Speciality Representative, MSD; Dr Eithne McCarthy, Consultant Microbiologist, GUH; Dr Deirbhile Keady, Consultant Microbiologist, GUH; Marie Tierney, Antimicrobial Pharmacist, GUH; Mick Phelan, Business Unit Director, MSD; and Dr Pat Nash, Group Clinical Director, Galway and Roscommon University Hospitals Group.