You are here
€1.65m Emergency Department at Letterkenny Hospital to re-open on 12 March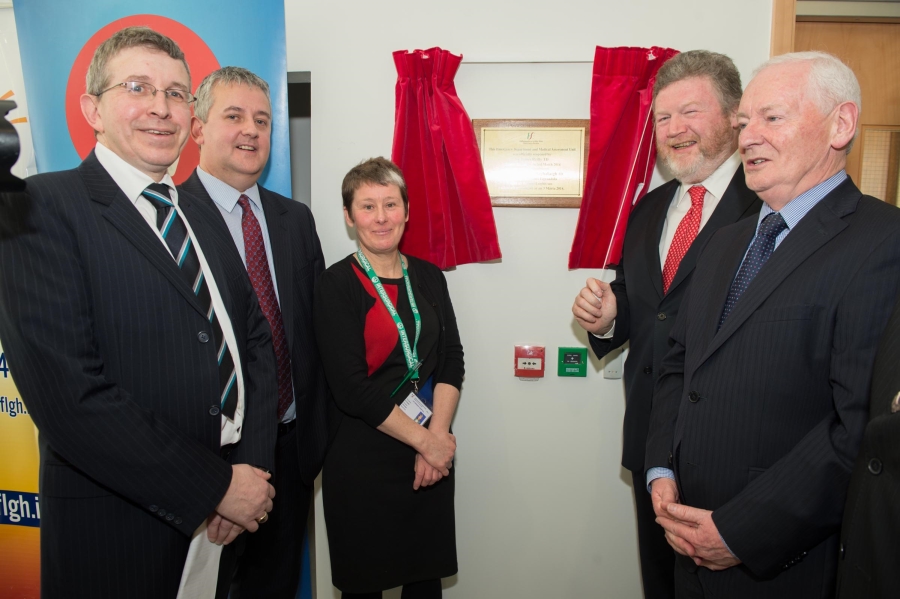 The Minister for Health, Dr James Reilly TD, visited Letterkenny General hospital today (Monday 03 March) for an event to mark the forthcoming opening of the Emergency Department/Acute Medical Assessment Unit which will become operational on Wednesday March 12: the new €1.65m unit will fully restore all Emergency Department facilities along with the 11 Bed Acute Medical Assessment Unit lost in the flood on July 26 which damaged 40% of the hospital's ground floor space, affecting 70% of services.
 
The overall insurance claim involving rebuild, re-furbishing and contingency costs to maintain services has been settled at €34m. The HSE's National Capital Steering Committee has approved additional funding in respect of capital monies needed to supplement the insurance cover in order to ensure the rebuild of facilities meets all current standards: this will bring the overall rebuilding budget to in excess of €40m.
 
Letterkenny General Hospital, which was assigned to the newly formed West / North West Hospitals Group in the immediate aftermath of the flood, has now brought MRI scanning of adult inpatients and outpatients back in-house (from the North West Independent Hospital in Ballykelly) along with scanning of paediatric patients (from Temple Street Children's Hospital and from Our Lady's Children's Hospital).
 
It is planned to open an interim 17-bed unit as an overflow unit for the ED in the coming weeks and this will have a significant positive impact for patients requiring admission from ED. The hospital's new pharmacy will be completed by 18 March involving the creation of a modern, purpose-built department that is designed to support a busy modern hospital; a new and enhanced Pulmonary Laboratory is planned to be completed by the end of April 2014; the Cardiac Investigations Unit refurbishment will commence mid April and restoration works on the Medical Records Department will commence by the end of April 2014.
 
Other rebuild projects that have already been approved include the Coronary Care Unit (for completion September 2015); the Kitchen/Dining Room (completion in December 2014) and Laboratory (completion late 2014).
 
Approval has also been received for a multi-purpose Interventional Suite for project completion April 2016. This will allow LGH to carry out a variety of diagnostic and treatment procedures within its own facilities, greatly improving the services for many patients who would have had to travel to Dublin previously for their treatments.
 
Other projects to be developed to final sign off stage include chapels/chaplaincy department, mortuary, permanent Outpatient and Ambulatory Care facility, Physiotherapy and Occupational Therapy Departments, staff changing room facilities and pharmacy store and boiler house, maintenance and ducting system.
 
New Interim Outpatient Department
The Outpatients' Department was one of the areas damaged by floodwaters and the Interim Out-Patients Dept is now located off the hospital campus in Scally Place, adjacent to the Courthouse in the centre of Letterkenny Town (opened on Monday 09 December). The premises was upgraded and reconfigured to allow the opening of 27 modern dedicated clinic rooms with waiting areas and the necessary support accommodation. This was a critical initiative in ensuring that the outpatient service, which cares for more than 80,000 patients per year, could maintain full functionality throughout the rebuild period. The services will return to the hospital in due course.
 
Flood Management Strategy
There are improved interim arrangements in place at the culvert with additional monitoring and clearing. The rebuilding works will include a new culvert, now estimated to cost in excess of €600,000 due to enhancements to the design. A planning application is being advanced with Donegal County Council. Internal flood management measures such as flood doors have been included in the design of the new building works. A detailed flood management strategy involving the culvert and buildings is being advanced with HSE Estates and will be published very shortly.
 
Patient Services
Commenting on the situation, Mr Seán Murphy, General Manager at Letterkenny stated, "Despite the significant disruption caused by the flood, patient services at Letterkenny General Hospital continued to improve during 2013 with better patient access, the appointment of more consultants, the establishment of multidisciplinary teams with St James's Hospital Dublin for colposcopy services and the introduction of audiology screening of all newborns. LGH ended 2013 having delivered a maximum 8 month wait for Inpatient and Daycase Surgery; maximum 13 week wait for routine endoscopy; a maximum 12 month wait for first Consultant outpatient appointment (with limited exception of Orthopaedics); and 90% of ED attendances admitted or discharged within 9 hours and 76% within 6 hours. Improving patient access will remain a priority for 2014 with the appointment of more consultants."
 
Minister Reilly thanked the staff and management for their ongoing commitment to ensuring that services were maintained despite the impact of the flood and the disruptions during this rebuilding phase and he thanked patients and their families for their ongoing support.
 
The Minister also acknowledged the roles played by the local community and businesses, members of the Fire Service, Gardaí, army and National Ambulance Service and colleagues in Sligo Regional Hospital, Altnagelvin Hospital and South West Acute Hospital (Enniskillen) and in Primary Care and Community Services and Mental Health Services.
 
Mr Bill Maher, Group Chief Executive for the West / North West Hospitals Group, stated, "Reflecting the national commitment endorsed by Minister Reilly, the full reinstatement of all clinical services at Letterkenny Hospital for our patients in the North West will remain a priority for the Group in the years ahead."
 
Caption:
At the ceremony to mark the re-opening of the Emergency Department at Letterkenny Hospital, from left: Sean Murphy, General Manager, Letterkenny Hospital; Bill Maher, CEO, West / North West Hospitals Group; Dr Sinead O'Gorman, Consultant in Emergency Medicine, Letterkenny Hospital; Minster for Health, Dr James Reilly, TD; and Deputy Dinny McGinley, TD.