You are here
University Hospital Galway team wins HSE Excellence Award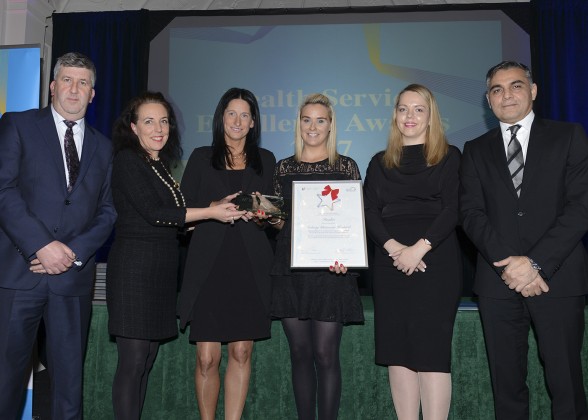 The team behind UHG's 'Serum Eye Drop' Programme won the 'Popular Choice Award' at the HSE Excellence Awards, which were presented at a ceremony in Farmleigh House yesterday, Thursday 14 December.  The project also won the award for Best Team.
Over 300 projects from all over the country entered the 2017 Health Service Excellence Awards, which are open to all staff working in the publicly funded health system. 11 innovative projects got through to the final shortlist after a rigorous selection process. These projects highlight how so many HSE staff are working to deliver better services with easier access and higher quality care for patients.
The Galway Blood and Tissue Establishment (GBTE) at Galway University Hospital, which has dedicated years of service to obtaining the Good Manufacturing Practice license to produce autologous and allogeneic serum eye drops. Galway University Hospital is the only hospital in Ireland licensed to produce Serum Eye drops, which are a serum-derived product used to treat a range of ocular surface disorders. There are many patients throughout the country whose lives have been drastically improved thanks to this treatment, without this service patients would have to avail of this service abroad.
The Excellence Awards enable the HSE to identify new and creative service developments that can be shared and implemented, as appropriate, in different parts of our health system. The Programme for Health Service Improvement is now planning to work with a number of the project teams to support the innovative work they do.
Maurice Power, Group CEO, Saolta University Health Care Group commented, "We are enormously proud of this unique programme here in the Saolta Group. It has huge potential which we hope to develop in the very near future. The recognition that the team has earned by winning the Popular Choice Award here today is much deserved and highly valued by the entire Group. As there is no other site in Ireland manufacturing this product, all aspects of the procedure from patient assessment and acceptance, donation, production release and follow-up has been devised entirely by the team here in GUH. Congratulations to everyone who has worked so hard to deliver such excellent results."
The article above is specific to the following Saolta hospitals::
University Hospital Galway (UHG)