You are here
Transition Year students experience life as a junior doctor at the Saolta Simulation Centre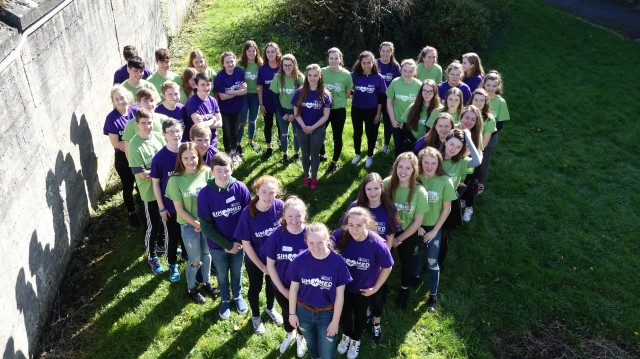 NUI Galway and University Hospital Galway recently hosted its 4th SIMMED School programme; a dedicated innovative programme for Transition Year students who are interested in exploring medicine as a career.  120 Transition Year students from all around the country took part in the programme this year.
The SIMMED programme is organised by NUI Galway and is based in the Nurses' home at University Hospital Galway which is Irish Centre for Applied Patient Safety and Simulation (ICAPPS).  It is the only dedicated high fidelity simulation centre in Ireland. Simulation is demonstrated to improve patient safety and provides a safe learning environment for medical students and doctors.
SIMMED is delivered in an interactive, creative way that helps practical learning. A mixture of lectures and workshops deliver the course content. Throughout the course there is an emphasis on team work, problem based learning and supportive participation.
The course ran over four days and students were immersed in the world of medicine, giving them a flavour of what life would be like as a doctor in a major teaching hospital. They had the opportunity to carry out medical and surgical skills and gain an insight into the workings of the human body. Professionals working throughout the hospital spoke with the medical students about their role and undergraduate medical students delivered part of the curriculum focusing on the importance of teamwork while providing an authentic glimpse into the life of a medical student.
During the programme, SIMMED students learned the skills of:
Venipuncture
Cannulation
Putting on sterile gloves and surgical scrubbing
Setting up a drip
Bandaging and slings
Urinary catheterisation
Plaster techniques
Treatment of cuts/wounds and infections
Diagnosing different facial injuries
Diagnosing common ear and eye complaints
Suturing skills
Surgical knot tying skills
Medical Moulage skills
How to evaluate your fitness levels and improve your diet
Airway management
Teamworking in an acute scenario
Decision making in an acute scenario
Spinal board immobilisation
Laparoscopic surgery skills
Bronchoscopy skills
Dr Dara Byrne, Director of Simulation at Director of  the Irish Centre of Applied Patient Safety and Simulation at Saolta University Health Care Group said, "I always look forward to SIMMED. Transition Year students have an energy and enthusiasm that is welcome. This year the course provided them with a real insight into life in a hospital and we in turn thoroughly enjoyed working with them".
Ms Carmel Malone, Head of School of Medicine, NUI Galway commented, "I was delighted to support SIMMED. Community engagement is part of our ethos at NUI Galway and this is an innovative way of introducing medicine and hospital life to Transition Year students. I was particularly excited that our medical students delivered part of this year's programme reflecting the value we place on teamwork at all stages".
The article above is specific to the following Saolta hospitals::
University Hospital Galway (UHG)