You are here
Renmore ICA 'Twiddle Muffs' Project supports Butterfly Scheme in Galway University Hospitals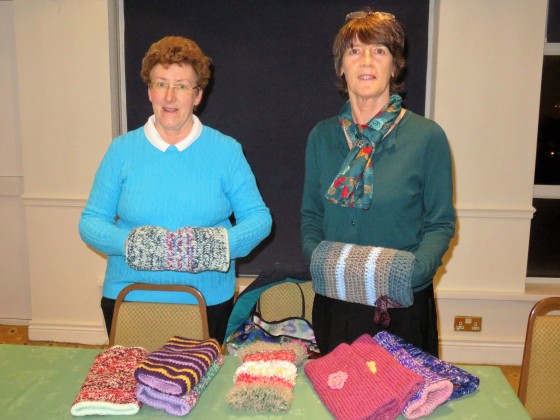 Renmore Irish Countrywomen's Association group (ICA) have come on board to support the Butterfly Scheme Committee in Galway University Hospitals (GUH) by making twiddle muffs for hospital patients with dementia. Rose Mary Conneely of Renmore ICA came across the idea of the twiddle muff while attending the ICA centre in An Grianan. Rose Mary advises, "While attending An Grianan I was introduced to the twiddle muff concept and received a copy of the pattern which is utilised in the NHS. I never thought that the guild would make that many when I first told them about it. It is a great activity as those that are not too good at knitting are sewing them. Its an interactive activity for our members and they have been so imaginative with the patterns and fidget items they include on the muffs". To date over one hundred twiddle muffs have been provided by the Renmore ICA group to the patients of Galway University Hospital and to the patients of the Alzheimer's Society day centre in Galway. The success of the twiddle muff project has now spread to the 26 other ICA groups in the Galway ICA Guild.
Orla Sheil, Occupational Therapist in GUH advises that "Twiddle muffs are designed to keep hands warm & busy and reduce repetitive behaviour, making it a great sensory therapy tool. When people with dementia are restless, the hand muff provides stimulation and reduces anxiety. Twiddle muffles offer tactile and mental stimulation and comfort for dementia patients. Patients have something to hold and manipulate, something to "twiddle" or fidget with and this has a calming effect on a person who has dementia. The textures, the gadgets, the warm coziness of the twiddle muff are all there for just that reason. The stimulation they provide adds to the individual's quality of life."
One patient's daughter reported "My mum gets so much comfort from the muff and it is great for me to have some small thing to connect with her when I visit. The muffs are beautiful and so much attention and care has been put into making it for Mum. I'm really grateful and think it is a wonderful initiative".
Galway University Hospitals is very grateful to the ladies of Renmore ICA for their time, effort and skill in assisting with this project.
Photo caption
Rose Mary Conneely (Renmore ICA) & Patsy Kenny (Renmore ICA Guild President) with their hand crafted twiddle muffs for dementia patients. 
The article above is specific to the following Saolta hospitals::
University Hospital Galway (UHG)