You are here
Neurotransmitter – Promoting Innovation in Health Care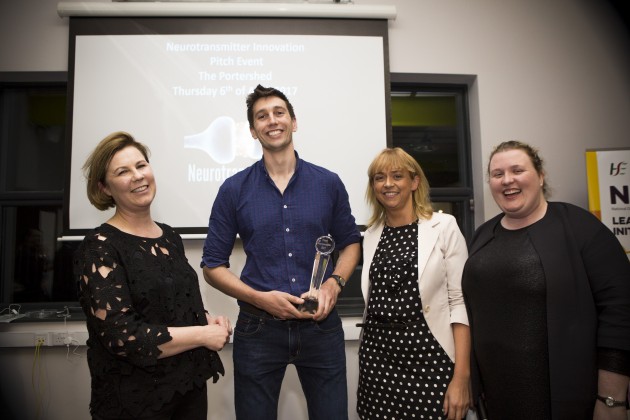 Ten teams of healthcare professionals came together on Thursday, 06 April in the Portershed, Galway to pitch their ideas as part of Neurotransmitter Innovation Event – a mentoring forum for healthcare professionals with early stage ideas to change and improve services for their patients. The event which is supported by HSE National Doctors Training and Planning (NDTP), Ehealth Ireland, NDRC, BioInnovate and is in conjunction with the Saolta University Health Care Group and NUI Galway School of Medicine.
The ten teams delivered a presentation pitch on their proposal to a judging panel made of up of health and innovation experts.
Dr Dylan Finnerty, Specialist Registrar in Anaesthesia and Critical Care at Galway University Hospital was the winner of first Neurotransmitter Inaugural competition. Dr Finnerty pitched his idea which makes arterial cannulation safer and quicker using ultrasound guidance.
Mr Frank Kirrane, Principal Medical Physicist, Galway University Hospital supported by team members Michael Duane and Christine Sheehan pitched the use of augmented reality (AR) in the realm of medical device education. This group were the winners of the Portershed Audience Prize.
Commenting,  Dr. Dara Byrne, Director of Simulation Saolta University Health Care Group and the Irish Centre for Applied Patient Safety and Simulation (ICAPSS) said, "Neurotransmitter Innovation event is about supporting healthcare workers to engage in innovation. This initiative is designed to make their ideas become solutions and to improve patient safety. The teams pitch their ideas and the winning concept will receive tailored mentoring and financial support to further develop their project".
Dr. Catherine Diskin, the national lead NCHD and chair of the pitch event said, "These are the types of initiatives the lead NCHD programme and the HSE NDTP are delighted to support." 
Photo caption
Dr Dara Byrne, Director of Simulation, Saolta Healthcare Group; Dr Dylan Finnerty, Winner of Neurotransmitter, Specialist Registrar in Critical Care and Anaesthesia, Galway University Hospital; Ms Mari Vahey, Intern Research and Development Project Manager and Dr Catherine Diskin, National Lead NCHD/ NDTP Fellow
The article above is specific to the following Saolta hospitals::
University Hospital Galway (UHG)