You are here
Collection of Poetry launches in UHG in aid of Breast Cancer Research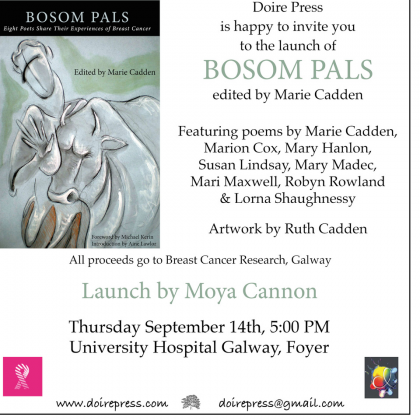 Eight women poets who live, or have lived, in Galway ­— Marie Cadden, Marion Cox, Mary Hanlon, Susan Lindsay, Mary Madec, Mari Maxwell, Robyn Rowland and Lorna Shaugnessy —  and who have had experiences with breast cancer are being published in a collection of poems called Bosom Pals, which deals with their experiences of breast cancer.
This project is the brainchild of Spiddal-based Marie Cadden, the editor, who is also one of the poets in the anthology. She was inspired to put the collection together after realising so many of the women she knew in the Galway poetry scene also had experiences with breast cancer.
The anthology also includes a series of black and white sketches by Marie's daughter, Ruth Cadden.
The forward is written by Professor Michael Kerin. Director of the Lambe Institute for Translation Research at NUI Galway and the introduction is by RTE's Aine Lawlor, herself a breast cancer survivor.
Aosdana poet, Moya Cannon will launch the anthology on the day.
Proceeds from the sale of Bosom Pals will go to Galway-based charity Breast Cancer Research, who fund a comprehensive research programme at the Lambe Institute for Translational Research, NUI Galway
The anthology will be published by Connemara-based publisher Doire Press and CL Print, Casla, are printing all copies of the book free of charge, ensuring 100% of proceeds go to Breast Cancer Research.
The anthology will be launched on Thursday 14th September at 5pm in the foyer of the University Hospital, Galway and all are welcome to attend.
The article above is specific to the following Saolta hospitals::
University Hospital Galway (UHG)