You are here
RUH catering department awarded Hear Me! registered certification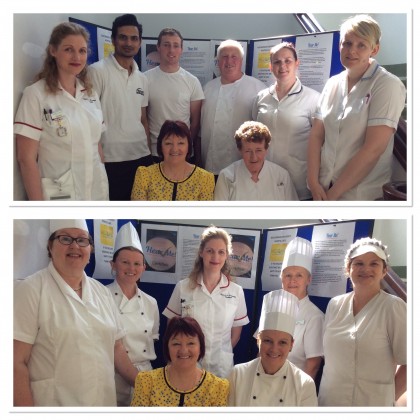 Hear Me! Communication Awareness Training is a training solution that was co-designed and co-produced by adults with communication impairments, staff and students from NUI Galway Speech and Language Therapy Department and HSE Speech and Language Therapists.
Hear Me! Training sessions aim to promote understanding and awareness of communication impairment and equip catering staff with the tools and strategies, e.g. visual menus, use of pen and paper and tick charts,needed to create a communication friendly environment.
Speech and language therapy students alongside individuals with communications impairments will lead activates that allow the participant to:
Learn more about communication,
Emphasize with those with communication impairments, and
Develop specific action plans for both your personal life and within your workplace.
Three representatives from Hear Me! visited Roscommon University Hospital on Tuesday 23 May and audited the staff's use of the strategies and tools they learned at their training sessions and are now and proud to announce that the catering department at RUH is now an approved certified Hear me! registered restaurant demonstrating a communication-friendly environment. 
Patricia Rogers, Catering Manager, RUH said, "We are delighted to bring this initiative to the catering department in RUH.  Last November eight staff took park in the training and today we are now an approved certified Hear Me! registered restaurant. We have a folder on display in the restaurant which shows pictures of all the foods/items on our menu, e.g. main courses, sandwiches, salads, desserts, sauces, tea & coffee etc and a tick box beside each item allowing the person to tick an item of their choice.  A notebook & biro is also available should they wish to write themselves. This initiative will effectively allow us to deal with people with communication difficulties who visit our restaurant ".
The article above is specific to the following Saolta hospitals::
Roscommon University Hospital (RUH)